Fact: Illegal use of digital products costs companies over $6.49 billion a year in lost profits in the USA alone, and worldwide losses are much greater.¹
Question is, will you continue to be counted within the statistics?
¹Business Software Alliance and IDC 2004, First annual BSA and IDC global software piracy study.
Why you need Softwere Defender
Increase your sales by protecting your digital photos, e-books, software, and other products from theft.
Software Defender is a web-based activation service that helps you fighting against software piracy and other forms of unauthorized use. It ensures that each copy of your digital product is used in compliance to your license terms and is not shared or used simultaneously on more than one computer. The whole system is designed to be easy-to-use for everyone who needs to protect his digital products yet powerful to cover any possible usage scenarios and license terms.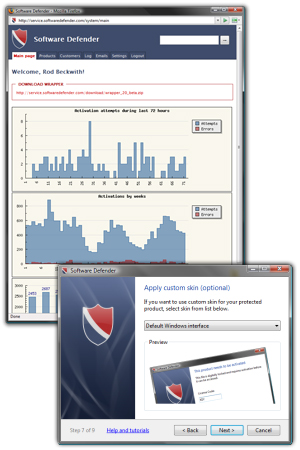 Each time protected software is being executed, Software Defender checks if it is allowed to run. If it is, your customer will start using your product right away, and if license key was deactivated or deleted by you (or automatic license violator detector), customer will not be able to access your product.
Main features

Software Defender allows you to protect any kind of digital product
(software application, e-book, photos, etc).
Easy protection process for software vendor (no programming whatsoever required).
Support of different license models to be used.
Automated blocking of license violators by using set of powerful filters.
Real-time statistics about your software usage.
Integration with virtually any payment processor including Clickbank, PayPal and 2Checkout.
Version tracking of your products being used.
Skin customization (optional)
Everyone can register for a testing account with all features available.
Visit the Software Defender site to find out more about this product.